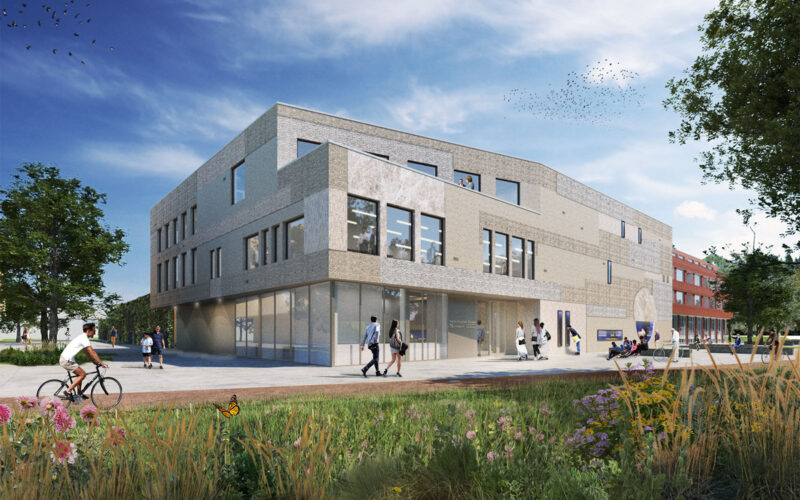 We won the selection of the extension of The Archaeological Depot Nijmegen
21 March 2023
The Archeologisch Depot Nijmegen and the Archeologisch Depot Gelderland will be merged. The existing building on the Nieuwe Dukenburgseweg no longer meets the needs and wishes of today and is therefore being expanded with a new entrance building and depot. This creates the largest archaeological treasure house in the Netherlands: het Archeologisch Depot Nijmegen en provincie Gelderland.
The three-storey new building consists of a compact, efficient depot building against an entrance, office and reception building. The depot provides high-quality storage and management of the collection according to the building physics concept of the Pausebox®. The counterpart of the closed depot building is the more transparent three-layer office volume in which all processing of the material to be deposited can take place in a professional, pleasant working climate.
We are endlessly fascinated by the archive photos of archaeological excavations, in which the special graphic power and color palette of excavated layers is intersected by straight cuts and sections, provided with markings and measurements in the archaeological field research. We make the facade as if it were a ground section; a gradation of different colors of masonry in varying connections and varied jointing. In these facades we make small showcases in a free composition, scattered over the facade. The display cases show the unearthed treasures as small glimpses into the depot to visitors and passers-by.
The new depot is part of the major urban area transformation of Winkelsteeg into a lively residential area, in which greening and biodiversity of the existing context are also of great importance in creating a climate-proof urban living environment.
After an intensive tender process, the municipality of Nijmegen and the province of Gelderland selected the plan of Giesbers, diederendirrix, Croes, Peutz and Bink as the winner. The DO and the environmental permit application are currently being worked out. Construction is planned to start around the summer of 2023.