Within an urban plan by Buro Lubbers, this duo block was the first of 4 residential complexes to be realized in this park-like rear area. The complex consists of 40 rental and owner-occupied apartments and 3 penthouses, with underground parking and storage rooms.
The considerable size for the village has been made small by a stepped design and a staggering of outdoor spaces. These deprive the architecture of its massiveness without undermining its strong expression. Loggias, terraces, recessed and cantilevered balconies ensure that the houses are maximally focused on the green environment. The two volumes rotated relative to each other each take up a direction out of context. The rotation has created a collective courtyard between the two volumes, which can be connected to a terrace in the park by opening pivot gates. Spacious, circular galleries and the stairs and elevator, which are designed as separate elements, provide access to the homes.
Project details

Details
Stedenbouwkundig plan: Buro Lubbers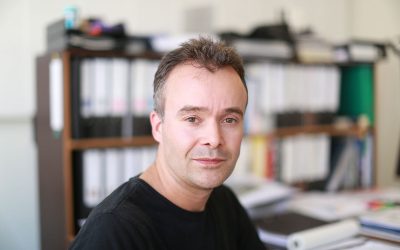 Want to know more about this project?
Jeroen Schipper
Architect / Urban designer