José en Guus van Heereveld have been living in the same house in Sint Oedenrode for forty years. Here, in this typical 1970s brick house, they continued to live after their children left home. They had plans to build a new house before, but in the end they chose for a thorough renovation, for a next to new house. Every day they are still astonished at the result.
Why diederendirrix?
"We talked to three architects and Bert Dirrix as a person decided us. He sensed the way we wanted to live," José says. Guus continues. "I was surprised at how well Bert can listen with his eyes, ears and intuition. He understood our intentions with all his senses. He then translated our vision into a special and startling design. His purpose was not to score points as an architect, but rather to design a house that suits us, in which we feel comfortable."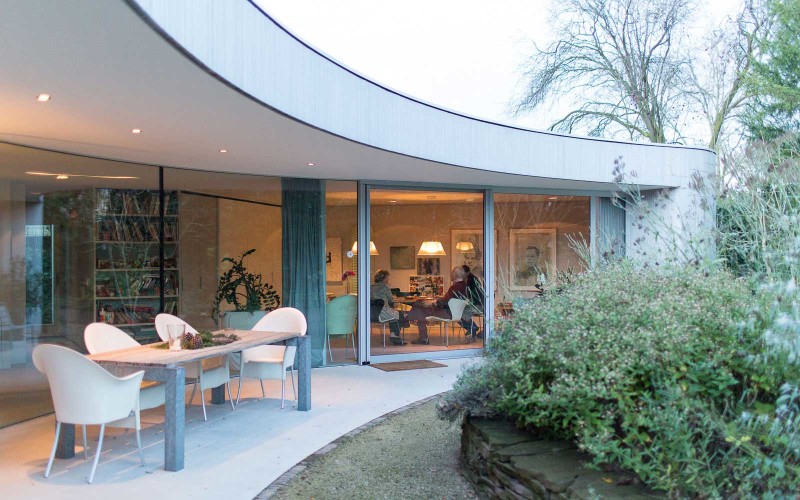 What were your wishes?
"Above all we wanted light, air and space. Bert presented three interesting drafts, all preserving the front façade. We have chosen the most daring version." Beforehand they would never have considered a glass lower façade with curves, but it really matched their wishes. "When I saw the drawings I wondered how the big space could be filled, but when the house was finished it went automatically," José says.
"We have chosen the most daring version."
The curve in the façade creates three logical spots to sit, read and dine. The kitchen is central in the space and is also designed by the architect. "You don't have the feeling that you are in a kitchen here. It really is a special object."
 Are you satisfied with the result?
José reflects back. "In the beginning we had to get used to the wooden, moveable gate in front of the window. For a moment the small slats looked like bars. Now I find it a lovely spot with nice light for reading when the evening sun enters the room." Guus is happy with the support they received. "Luckily we had a direct helpline to Bert. He or one of his employees was always available for questions or advice. This made the building process a relaxed affair without any problems. If on a rare occasion problems were imminent, then they were solved quickly and adequately. We considered moving and building a new house once, but to live in a new estate was not an option for us. That's why we chose for a next to new house on the existing, familiar spot. We often pause, look around us in astonishment and think: wow, how beautiful."