It naturally took some getting used to the new campus of the International School Eindhoven, but now most of the teething problems are solved, internal supervisors Karin van der Linden and Nienke Richters think it is a pleasant and nice place. "It's almost an honour to work on a campus with such facilities."
Light and safe
The campus consists of historical barracks and new buildings, which are connected to one another through an underground corridor. The corridor links up with the multimedia centre and the small sports hall. The multimedia centre is frequently used by all primary and secondary school classes and is the school's unique selling point, according to Karin. Nienke continues. "Almost everyone thought that the corridor would be dark, but its light is beautiful. The sports hall is extremely luxurious and was built with lovely materials. It's just a shame that the distance from the kindergarten classroom to the sports hall is rather long for the little ones." Fortunately, this is only temporary as there are already plans for the final, not yet completed part of the new building. "A fantastic asset is that all kindergarten classrooms have their own outside doors. Parents pick up their children at this door. This way the teacher knows for sure that she hands the children to the right person and that they don't stay roaming the schoolyard," Karin says.
"Almost everyone thought that the corridor would be dark, but its light is beautiful."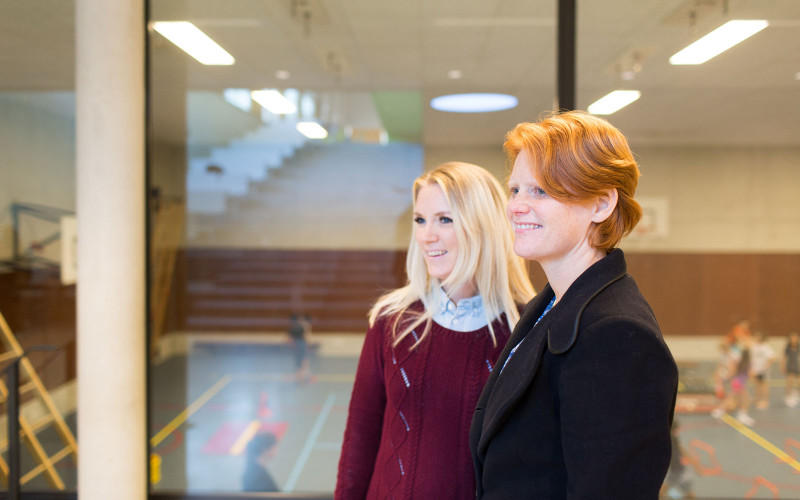 Green and quiet
Partly because of its green surroundings, the campus offers ample possibilities. Teachers can easily take the children outdoors and use the sport facilities. Indoors one mainly notices the peace and quiet. "The quiet aura and the light from the large windows make the classrooms pleasant for teachers and pupils. The classrooms are big. They're spacious and flexible enough to create different areas within the room. The teachers have created a safe atmosphere in the classroom through the lay-out. The climate is good as well. At the former location it was often too hot or too cold. We frequently had headaches, not anymore now," Nienke says. Karin continues. "The classrooms have pleasant acoustics. Inside you can't hear any sounds from outside. There's a small window overlooking the children's toilet in the kindergarten classrooms. This is a huge plus, because the teacher can keep an eye on everything."
Together and pleased
One of the campus' objectives was to create a home for the expat community in Brainport Eindhoven. That mission seems successful. "Parents now have far more opportunities to meet each other at school. They use the canteen, start small clubs, and do voluntary work. Before and after school they gather in the schoolyard and on the skylight benches. Yes, parents are very fond of the ISE. The number of pupils is rising, there's even a waiting list. That's also because of the campus' design. The campus is fantastic, especially by Dutch standards. We now really have the allure of an international school. We are well pleased," Karin says.