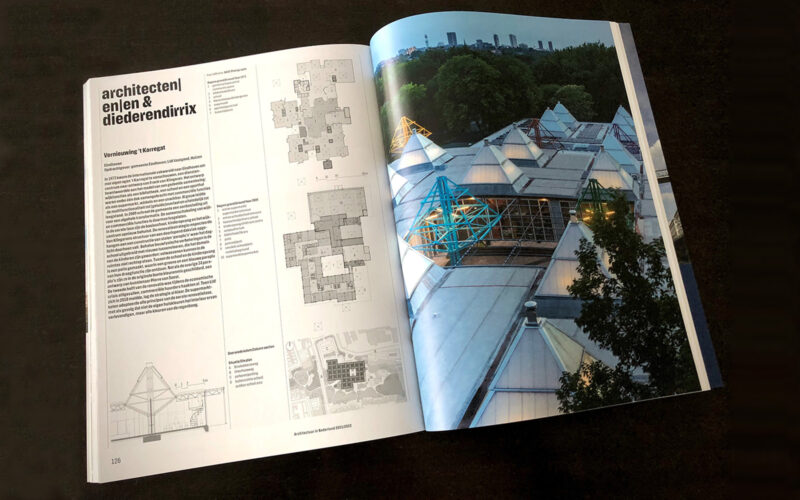 Renewal of 't Karregat in Yearbook Architecture in the Netherlands 2021/2022
31 May 2022
Last week the Yearbook Architecture in the Netherlands 2021/2022 by NAi010 publishers was presented in Het Nieuwe Instituut in Rotterdam. The editors of the Yearbook #35 consist of Teun van den Ende (founder Werkplaats Erfgoed, independent researcher, writes for, among others, Vers Beton and is a consultant in spatial policy), Uri Gilad (co-founder and partner Office Winhov) and Arna Mačkić (co-founder of studio L A and winner of the Young Maaskant Prize 2017). The twenty-six projects in the yearbook have been selected from the more than 180 entries because, according to the editors, they can stimulate the conversation about architecture.
"The question often arose as to whether an architect can still make a difference, since his power is limited. Today's unruly practice requires exceptional craftsmanship, expertise, or simply persistence and persuasiveness. Which of these properties are used by architects and what are the benefits? And how can clients, policy makers, developers, contractors and residents help make a difference together? If any conclusion emerged from the discussions, it is that architects desperately need these 'enablers', hence: Time to talk."
The renovation of 't Karregat in Eindhoven fits in well with the Time to talk theme. The redesign for the existing building was made in collaboration with architecten|en|en. The building has been renovated with respect for the original design by architect Van Klingeren and the original color scheme by artist Van Soest. In close consultation with the owners (municipality, supermarket) and users (primary school, childcare, library and supermarket operator), the building has been given a different layout. Together with the technical advisors and the contractor, the building construction from 1973 has been carefully adapted to the current building physics requirements. With the renovation, 't Karregat is once again fulfilling its old promise as the radiant center of the district in the present.
Architecture in the Netherlands Yearbook 2021/2022 is now for sale.