Hoogwegt is one of the largest internationally operating, private trading companies in dairy products and operates in all the major production and consumer markets. The company provides solutions in the food industry in the field of quality, logistics, market expertise and risk management. The steady growth of the enterprise, the need for its own location and the desire for a more distinct business profile prompted the construction of a new office building. This resulted in Hoogwegt opting for a unique building design on one of the most prominent locations in the centre of Arnhem.
Geographic orientation
The plot's geographic orientation is towards Burgemeesterswijk but, at the same time, it is a prominent landmark when viewed from Arnhem CS on the Sonsbeek side. The building is an important spatial element in a sequence of larger plots along the main access route from Amsterdamseweg and creates a well-planned transition between the NS railway station and the historic residential centre. Due to its high location on the raised embankment, the office commands a view of both the river Rhine and Sonsbeek Park. The varied character, the sight lines and the influences of scale in the area are the instigators and qualities that formulate the attractively-differentiated sculpture.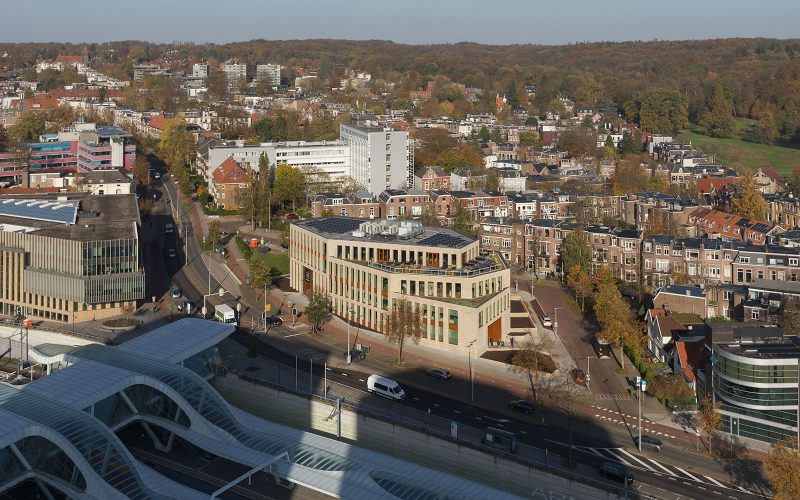 As regards the choice of materials and colours, the new construction is in keeping with the characteristics and the qualities of the neighbourhood. The meticulous structural detailing and ornamentation of Burgemeesterswijk is interpreted in a contemporary way. By basing the design on this perspective, an office building was created that, both visually and structurally, radiates a subdued yet distinctive character.
Office landscape
The core of the Hoogwegt enterprise comprises three clusters of traders, logistics planners and financial experts who will work together in the new office building in a dynamic and multi-level office landscape. This creates a natural zoning for diverse working styles and work environments with abundant daylight, long sight lines and spaciousness to promote the well-being of the users. The central atrium provides diagonal transparency, establishing the link between the departments and ends in the staff restaurant on the top floor. The centre of the building plays a pivotal role and is varied and flexibly designed. It is not only a meeting place during break times, it also plays a key role when working – individually or together with others, for discussions and consultations, and when relaxing.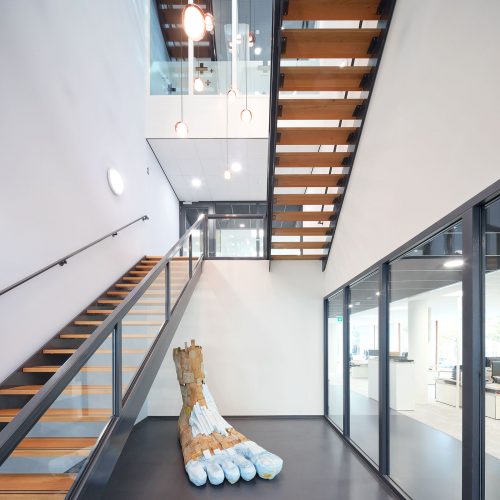 Exceptional location
One of the office block's extra qualities stems directly from the building's exceptional location. Due to its high position on the raised embankment, the building's offices and the restaurant have spacious terraces with a splendid view of the city of Arnhem. The Hoogwegt office is therefore an ideal home base providing an optimal working environment for promoting exchange of knowledge and generating greater creativity within the organisation.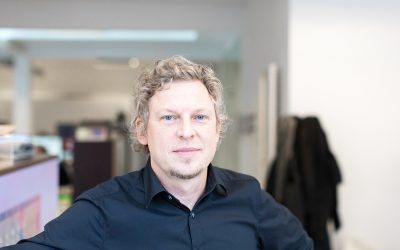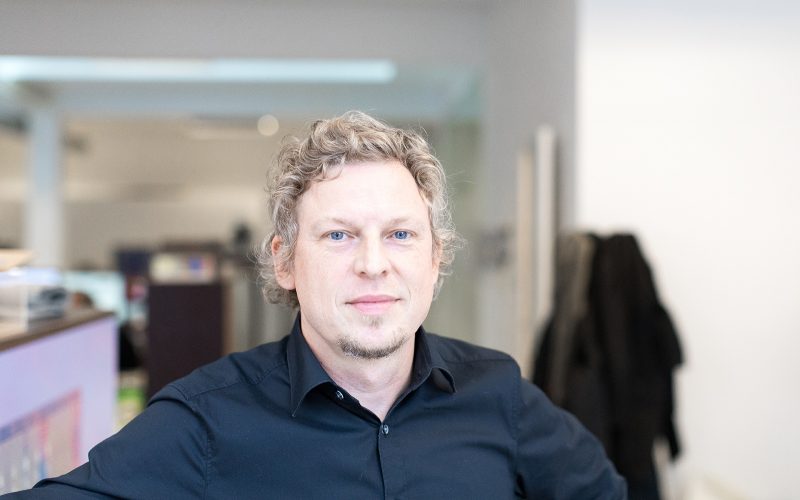 Want to know more about this project?
Rob Meurders
Creative director/ Partner