We are dedicated designers of construction. To ensure the best possible practice of our trade, diederendirrix achitecture & urbandevelopment is set up as a three-part unit. Our experienced team of designers in Eindhoven is flanked by the expert bureauEAU engineering team and our young research and development team in Rotterdam. Our continuous search for a balanced relationship between design and construction, between spotting a problem and solving it, and between the head and the hands has given us our open, dynamic attitude to design. Individually we hone our specialist expertise, to allow the unit to devise powerful plans and execute well-built projects.
The agency's name givers and founding partners Paul Diederen and Bert Dirrix are the Senior Directors of diederendirrix architectuur & stedenbouw. With Creative Director Rob Meurders, (Technical) BureauEAU Director Tom Kuipers, Business Director Anja Dirrix and Director of Business Development Theo Hauben they manage the agency's three teams consisting of a total of approximately 35 architects, engineers and urban planners. The agency's open structure strengthens individual responsibility, sparks greater passion and promotes knowledge development in all our staff members, which helps us focus on the (added) value of the activities we develop for our clients.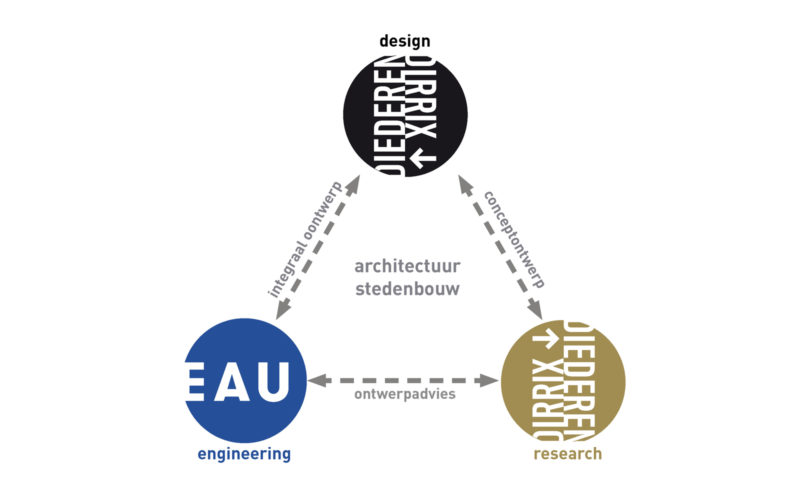 Depending on the client's demand and the desired aim, our design, engineering and research  teams operate independently or in a combined set-up. The client receives assistance from our best matching professionals and is presented with the best possible design, concept or advice. In a combined set-up of the design team and BureauEAU we tackle integral Design & Build commissions. During the initial stages of a project, our research team explores queries through design research. BureauEAU and the research team join forces to deliver on construction processes, engineering and construction material. Complex Design-Build-Finance-Maintain-Operate-commissions (or variations of these) are tackled by the three teams combined.
Our technical team uses a variety of Building Information Model (BIM) Software. This allows all the participating consultants, architecture agencies and contractors to participate in the designing and engineering process, from start to finish. And it provides our clients with a clear view of what their building is going to look like, both from the outside and on the inside. In addition, this approach offers immediate insight into the technical and financial consequences of any intervention in the design. So right from the initial stages of designing and construction, when changes have the most impact on the cost and the quality of a design while having the least negative financial impact, we are able to manage the risks, the budget and the planning of a project, which ensures we offer the best possible quality on the end result.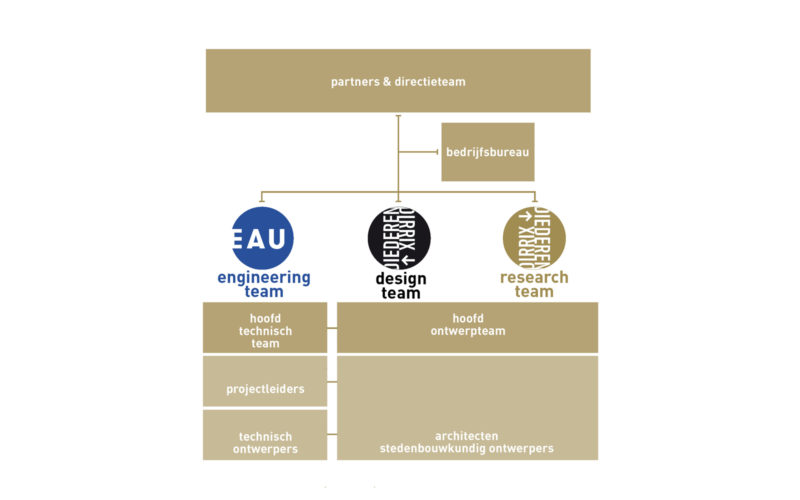 BureauEAU has also begun working on complex Engineering & Building commissions directly for contractors and project developers. In addition to realising designs produced by diederendirrix, bureauEAU has also realised a number of interesting projects independently.