Strijp-R is one of Eindhoven's factory sites being revived. Ralf Peeters, development manager at Amvest, has been involved in the development from the start. "Everybody now thinks 'it figures, this is how you do it', but looking back eleven years our approach was really special indeed."
(TV) screen factory
In 2005, Amvest bought the site where the factory was still producing a lot of (TV) screens at the time. Strijp-R was a very different site from Strijp-S, with less monumental buildings. Archaeological research showed that especially the landscape and one or two axles were valuable. These now form the basis of the new area. One or two buildings were preserved.
Amvest aims at young families of technically highly educated people, typical of the region. "Our motto is 'Home for inventive people', and a rational architecture – in appearance as well as plan – fits in with this," Peeters says.
Room for interpretation
Diederendirrix and Buro Lubbers drew up a flexible urban development plan. "We resolutely chose to not elaborate a blueprint, but a plan with strong frameworks that left room for interpretation," Peeters says. "This now sounds normal, but this was really innovative in 2007." The spatial quality plan is also more of an inspiration document than a fixed set of rules.  "This left room to fit in unexpected initiatives, such as Piet Hein Eek's workshop which has managed to grow into 'locator' for the area."
"In 2007 it was really innovative to choose for a plan that left room for interpretation."
To safeguard the level of ambition, Amvest appointed a supervision team, which included Peter Lubbers and Bert Dirrix among others. "It's special that we've been working on this plan with the same people for more than ten years. With the supervision team we always keep monitoring the story of the area and the identity we want to achieve. In a way it's the yardstick against which all initiatives are being measured."
Although the houses in the area vary, they are all part of the same family. "They don't have to be brothers and sisters," Peeters says. "But they do have to be cousins. You see the signatures of the architects, yet the buildings match." The green character is also an important constant. "The area is surrounded by a green park functioning as a link with the surrounding areas. And every house comes with a hedge. This way, every garden has that same feature and there's a lot of green in the area."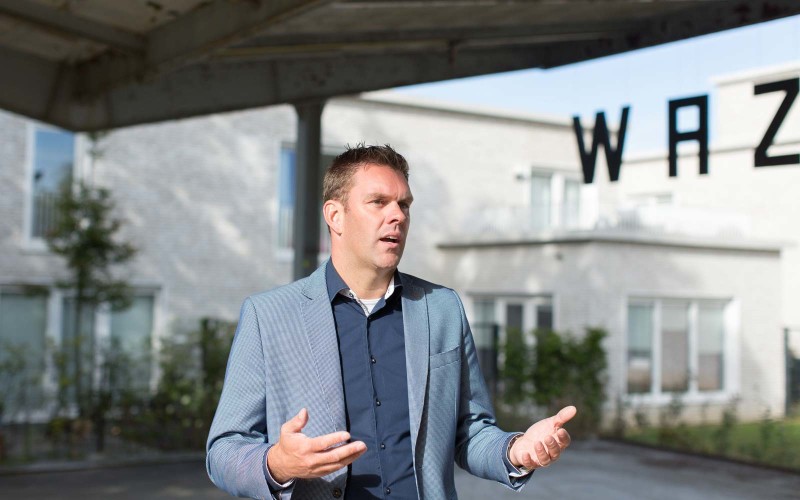 Stepping up a gear
Fulfilling its ambitions was not taken for granted. "The homes of the first construction phase designed by diederendirrix were completed in 2010, in the midst of the crisis. Nevertheless, there was sufficient demand for these houses. The following years we further developed the area in small parts."
The housing market picked up in the meantime and the urban development plan was reassessed in 2016 to include new initiatives, such as the redevelopment of the RAG building and a cohousing project. "The frameworks of the urban development plan have proven their strength. The zoning plan we drew up in 2007 is still valid," Peeters says.
The development of Strijp-R has stepped up a gear. Peeters says: "We are now about halfway. A number of architect firms are currently elaborating the last subsectors, to hopefully be totally ready in about four years."