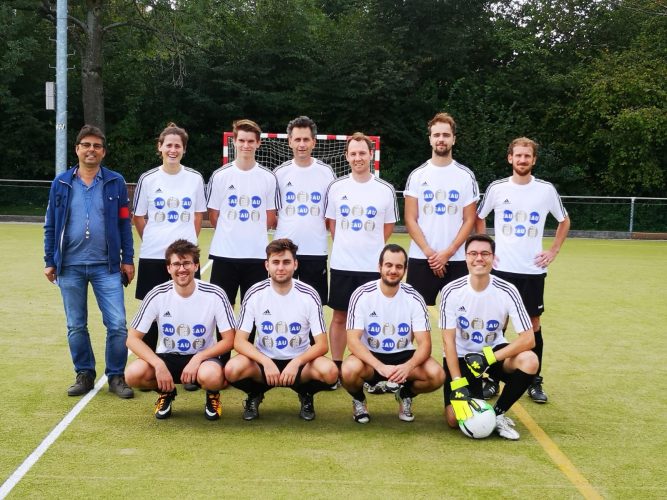 The first Eindhoven ArchiCup 2018
10 September 2018
Following the successful Archicups in the Randstad urban conurbation, it was high time that this event was also held in Eindhoven, according to Christopher Ho (diederendirrix architectuur & stedenbouw) and Theo van Hoeve (Pauwert Architectuur). With no fewer than twelve competing teams comprising Eindhoven and/or Brabant based architects, this first event was a great success.
The teams assembled on Thursday 30 August at the students' sports centre at TU/e where the players kicked off at 3.30 p.m. The teams were divided into pools with each team playing a minimum of two matches. The winning team in each pool went through to the semi-finals. The teams were spurred on by colleagues, family and friends.
The teams fought hard for the coveted trophy in this first event! Finally, following a thrilling contest, Architect Direct from Mierlo went home with the cup.
In the semi-final diederendirrix played against Houben from Mierlo. diederendirrix was really strong, and won by 2 – 0.  In the other semi-final Architect Direct beat Inbo.
The final kicked off was at 7.30 p.m. and the younger team, Architect Direct proved too strong for diederendirrix with 5-0. The winner triumphantly received the first trophy cup, as well as the Fatboy Lamzac.This event was made possible in part by: TU/Eindhoven, the organisation (Christopher Ho and Theo van Hoeve) and principal sponsor Fatboy Lamzac.
It was an entertaining, sunny and sport-filled day and after the football there was of course no lack of food, drinks and music.
Participating teams: Van Aken – cae, Houben / Van Mierlo, Buro Lubbers, Bouwhulpgroep, Inbo, BEVER, Architect Direct, KAW, De Twee Snoeken, Pauwert Architectuur and diederendirrix/bureauEAU and the combi-team.