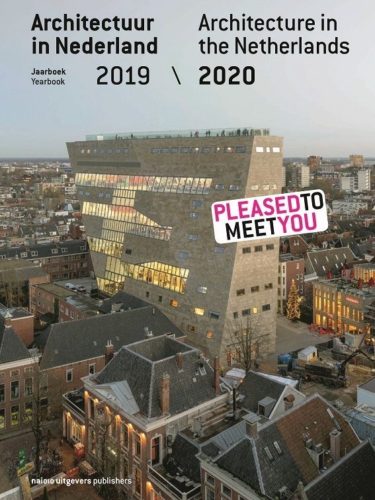 DomusDela is published in the Yearbook Architecture in the Netherlands 2019/2020
22 September 2020
For more than 30 years, the publication Architecture in the Netherlands of NAi010 Publishers, is an indispensable survey for everyone who is interested in Dutch architecture or works in this industry. This year the launch of this book was on the 21th of September in the Nieuwe Luxor Theater in Rotterdam.
The three editors (Kirsten Hannema, Teun van den Ende & Arna Mackic) made a selection of exceptional projects which has been completed in the last year. They describe the most important developments which influences the Dutch architecture.
This year the coordinating theme is: Pleased to meet you, an invitation to start a conversation with each other, to listen to and connect with other people, and to see architecture as a joint project.
The House of ceremony DomusDela in Eindhoven, fits perfectly in the theme Pleased to meet you. The new functionality of the previous monastery and the new transparency adds a public space and a contemporary meeting spot to the city. A public stage which invites a broad program ranging from funeral and marriage ceremonies to concerts, cultural activities and party's. DomusDela is a new focus of architectural, city planning, cultural and social connection on the intersection of present and history. With this complete new dynamics, an important urban hotspot is added to Eindhoven.
The book Architecture in the Netherlands Yearbook 2019/2020 can be ordered  through this link.