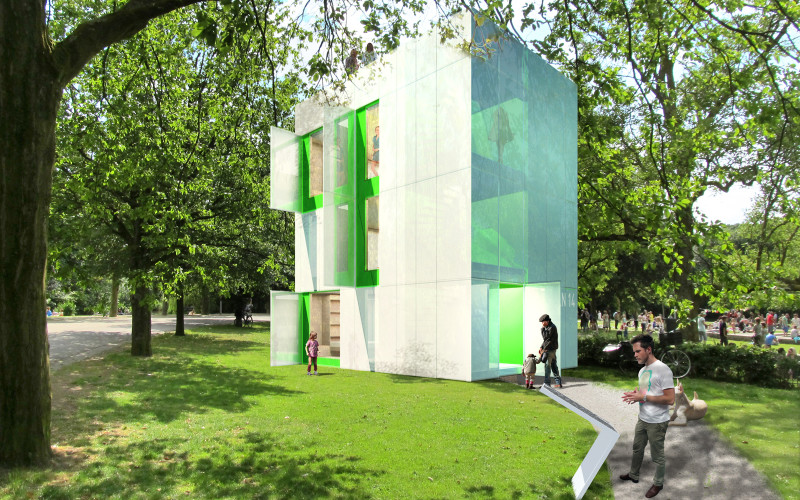 Nezzt wins competition 'Liberated living, your ideal tiny house in Almere'
6 July 2016
NEZZT WINS COMPETITION 'LIBERATED LIVING, YOUR IDEAL TINY HOUSE IN ALMERE'
Tiny Housing is everywhere. The enthusiasm for this phenomenon has grown strongly lately. In February, the city of Almere – in collaboration with Het Woningbouwatelier – organised a competition, aimed at new ideas related to housing. NEZZT entered.  
Worldwide, the Tiny House Movement makes out a case for a different type of house than usual. It is not important to have a big house; Tiny House focuses on efficient housing. Affordability, sustainability, an unique character and a form of 'liberated living' are its main principles. The movement began in the US, but it already has many sympathisers in the Netherlands as well.
Competition 'Liberated living'
The BouwEXPO 2016/2017 wants to be the driving force behind an innovative, affordable and sustainable construction movement which represents a form of 'liberated living'. As part of the BouwEXPO 2016/2017, the city of Almere – in collaboration with Het Woningbouwatelier – organised an ideas competition, aimed at innovative ideas related to housing. The winners of the competition 'Liberated Living, Your Ideal Tiny House in Almere' were announced on Wednesday 6 July. Under the watchful eye of Minister Blok (Housing and Public Works), a professional jury, under the chairmanship of mayor Weerwind, announced the winners. NEZZT won in the Tiny Housing Permanent category. The winners receive an option on a building location and can then start realising their Tiny House.
A collective of knowledge and experience
'Living spaciously in a small place' is a NEZZT (DEMEEUW, diederendirrix architecture & urban development and C-twee) production. On this principle they presented a shared vision: small is nice. Especially when you can live spaciously in a small place. With comfort, unique quality and a personal interior. Compact and highly efficient. Sustainable and energy efficient because of advanced technology.
The design
'Living spaciously in a small place' is based on one unique idea: a multifunctional base with a fixed square format of 30m2. With an interior that adapts the house to the desired space in less than no time. 30m2 is a perfect base for eating, relaxing, partying or meeting. More than that: the interior continuously adapts to the daily-changing needs. This way, the house will be used to its full potential daily.
There are plenty of possibilities to fulfill living needs. For clever, flexible wall units can be used for different living scenarios. With one simple move, the living room becomes a bedroom, a dining room, a party room or a cinema. A space the way you want it, when you want it.
The linked façade panels refer to the characteristic crops and subdivided fields of Flevoland province. Each field with its own use and character in the different seasons. Likewise, the cluster that moves with the various moments of the day. The use of its residents determines how it is experienced from the inside and the outside. Our Tiny Houses live.
Read the full press release